We understand that your Total Reward message should be simple, clear and informative, giving your employees a 360˚ view of their complete package that you provide to them.
With Zest, Total Reward is more than just a simple statement; it's interactive, educational and fun! Encouraging your employees to discover their benefits in a smart and effective manner.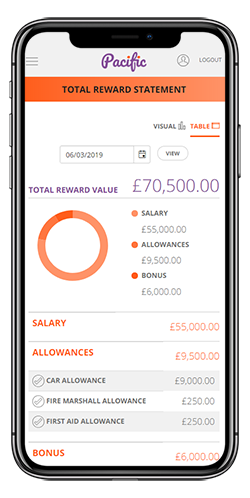 A 360˚ view of Total Reward
A constant frustration amongst HR professionals is that their employees do not fully appreciate the value of their total package. Sometimes the true value you place in your people can go unnoticed, no matter how many e-mails you send out and posters you put up. With Zest's interactive Total Reward Statement it is easy for them to see the full value of their package by encouraging them to actively engage and explore their benefits.
With both a visual and table view, your employees can have a 360 degree view of their total reward package in a way which suits them.
Why Use Our Platform
Interactive Total Reward

Total Reward is no longer just a static statement, it's a tool to motivate your employees by encouraging them to engage fully with their full benefit and reward package.

Include Any Benefit

Maybe not the kitchen sink, but include any benefits, bonuses and pay rises into your employees Total Reward Statement to show the full value of your employment.

View for Any Audience

With visual and table based views your employees can digest their Total Reward information in a way which suits them.

Effective Dated TRS

Remove the confusion and let your employees see the impact that their benefit selection (or pay rise) has on their take home pay before they make their selection.
How It Works
Zest's Total Reward Statement provides employees with full insight into their reward and remuneration package. Our visual page allows employees to understand how their total package is segmented, it's true value and if there is any cost to them. By simply clicking on sections, they can see personalised information about each benefit, bonus and 'perk' every employee has as part of their Total Reward Package.
There's no need to worry about extra work for that extra level of engagement either. Zest's intuitive self-service administration handles all the complexities, keeping your data up to date in real-time, providing you with the time to really focus on your employees.
A truly responsive design means your employees can access their total reward when it suits them, on any device, anywhere. Whether that's discussing their newly announced pay rise at home with their partner or reviewing their pension contributions on the train. With Zest, your employees are empowered to understand every element of their Total Reward, without any queries with HR.
Other Features
As well as being designed with a keen focus on Total Reward, Zest has a whole host of other benefits. Check out the pages below to find out how else your organisation can improve your employee benefits set-up.
Interested In Learning More?
Visit The Zest Blog
From the title of this article I'm sure you're thinking, they're mad. Why would I want these people within my organisation? But what if these employees are the key to your organisations creativity and success? This outside-the-box view can be what makes so many organisations great and keeps them at the top.
Get in touch
Book a Demo