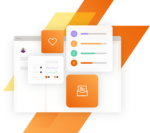 Our vision
We're championing a new era of employee engagement through technology. 
In our vision, employee engagement goes beyond benefits administration and breaks away from a one-size fits all approach. 
We believe in personalization and customization, allowing you to offer benefits packages that cater to the unique needs and preferences of each employee. By treating each employee as an individual, we'll unlock their full potential and build a deeper level of engagement.
With our platform, we're building a future where employees are at the heart of every decision and organisations understand that employee engagement is not a one-time thing but an ongoing activity. 
We believe that the right technology acts as an enabler of all this, allowing you to continuously improve and adapt your benefits offering to your employees. Through our technology, we want to empower organisations of all sizes and industries to create a workplace culture where employees feel valued, supported and motivated.