Simple Employee Benefits Administration & Insights
In this day and age, employee benefits should be quick, simple and easy to manage.
Managing your employee benefits has never been easier than with Zest. Using our powerful, easy to use Admin Dashboard, you can automate employee benefit enrolment, connect seamlessly to other HR systems and easily automate key processes such as provider & payroll reporting.
And with Zest there's a host of time saving tools such as handy notifications, so you're instantly alerted when your attention is needed.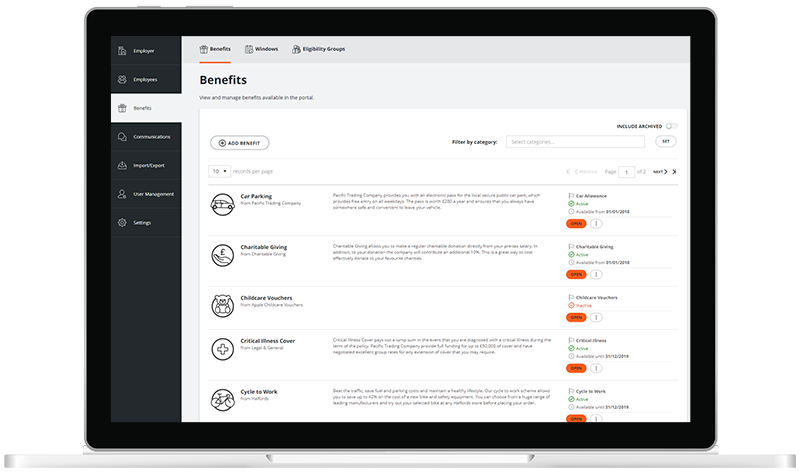 Pain-Free Benefits Administration & Insights
Now you can wave goodbye to lengthy administration processes when it comes to your benefits scheme. Zest has been built with simple, reliable employee benefits administration at its very core, based on years of experience. You can save time with our secure automated data processes so your system has all the latest information about your employees and your reports are produced on time every month. All your data is securely, accurately maintained and available for export at the press of a button.
Our experience goes further with a multitude of features to make your life easier, such as helpful alerts and notifications which flag key actions such as special benefits approvals as soon as they occur, so you'll never miss anything.
Why Use Our Platform
Time Saving Automation

It's never been faster – or simpler – to review and even approve benefit selections or run key reports. Automated processes can handle this all for you at regular, specified intervals or triggers.

Simple Integration

Easily integrate with other HR platforms and let Zest do the rest. Sharing data has never been so simple.

Alerts & Notifications

Handy alerts and notifications will let you know when your benefits scheme needs attention, from benefit requests to reporting, you'll always be in the know.

Up to the Minute Communication

Benefit information, including links and videos, can be easily updated and immediately made available to all employees eligible for that benefit.
How It Works
Your hub of information is the Administration Dashboard, here you'll see any actions that you need to take in the Important Tasks widget, such as benefit approvals and notifications for import or export issues amongst other messages to ensure your scheme runs smoothly. You'll also see the selection windows that are open and the activity within them and be able to see benefit take up and usage of the site.
Automated processes ensure the right information gets to the right people at the right time. From supplier and payroll reporting to updating content, you no longer need to face spiralling costs or hours chained to you desk. We'll even set them all up for you, even integrate with your HR technology too, so you don't have to spend time transferring key information.
Other Features
As well as being designed with a keen focus on reducing the burden of administration, Zest has a whole host of other benefits. Check out the pages below to find out how else your organisation can improve your employee benefits program:
Interested In Learning More?
Visit The Zest Blog
Why it's unacceptable to be unsure if your employee benefit programme is succeeding.
By Graham
Read more
Employers often spend hundreds of thousands, if not millions of pounds, on providing workplace benefits to their people. While there are many good reasons to do so, the justification to support such a significant investment should be objective and demonstrable. Instead, decisions are too often based on "similar experience" and "anecdotal feedback". With budgets coming under scrutiny like never before, there is increasing pressure to evidence the effectiveness of benefits programmes. Now is the time for reward professionals to embrace the power of data or end up finding themselves exposed.
Get in touch
Book a Demo