Perfectly Personalised Benefits
Engage your employees with an employee benefits platform that truly resonates with every individual in your organisation.
With Zest, you can easily create a truly engaging and personalised experience for your workforce. There's no need for additional work for your team or unexpected costs.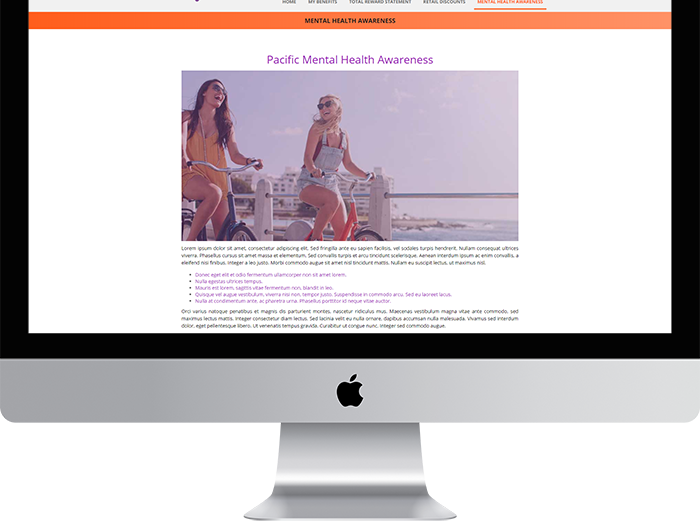 On Point Information
There's no more need to bombard your employees with a relentless stream of unsuitable information. Your younger employees may not want to know the same information as some of your senior employees when it comes to benefit information, so the ability to show them relevant content instead is key. With Zest's content eligibility groups this can be easily achieved.
From specialised content pages, to bespoke benefit information, you can reduce confusion and engage your employees with benefits that are relevant to them, alone, encouraging your employees to make the best benefit selections for their circumstances.
Why Use Our Platform
Personalised Branding

Add your logo and imagery that will really resonate with your employees, at the click of a button.

Personalised Content Pages

Truly communicate by sharing important information on your benefits and more. From mental health advice to a page on the next staff party, it's up to you!

Eligibility

Target content to key employee groups, to ensure the right information reaches the right employees and encourages better take-up.

Quick & Simple Changes

Say goodbye to spiralling costs and complex change requests – just to change the smallest thing.
How It Works
Personalisation runs through the very heart of Zest, and it starts right at the beginning with your portal design. With Zest you can change the look and feel of your portal to truly represent your brand in a matter of minutes, and at zero cost to you. There's no need for costly rebranding or image updates anymore.
Personalisation goes further with eligibility groups, so you can inform your employees with the relevant information and drive the best possible take-up as a result. You can segment your employees using personal or work information like age, work location and grade allowing you to provide essential information to your employees through email, benefit pages and even content pages. No more questions like 'What level of cover can I get?' and 'What are my pension contributions?' it's all there in your benefits portal. Handy.
Other Features
As well as being designed with a keen focus on personalisation, Zest has a whole host of other benefits. Check out the pages below to find out how else your organisation can improve your employee benefits set-up.
Interested In Learning More?
Visit The Zest Blog
5 questions about personalisation that you should ask any benefits technology provider
By Emma
Read more
We no longer accept one-size-fits-all solutions in our daily lives as personalised experiences have become the "new normal" due to advances in technology. Netflix will recommend shows for you based on your viewing habits. Your supermarket will remind you when you forget to add your "usual's" to your online shopping basket. We have personal assistants on our phones and in our homes ready to remind us to buy dog food or collect Mum from the station. Generic just doesn't quite cut it anymore.
Get in touch
Book a Demo