Employee Engagement Elevated
It's time to say goodbye to just 'fine' employee benefit platforms. Now is the time to elevate employee engagement by giving your employees a modern, intuitive, easy to use platform which provides them with everything they need to enjoy a truly personal benefits selection and management experience.
Simple and intuitive to use, Zest's employee benefits platform makes it easier than ever for your employees to build a benefits package that works for them; and have a great experience while doing so.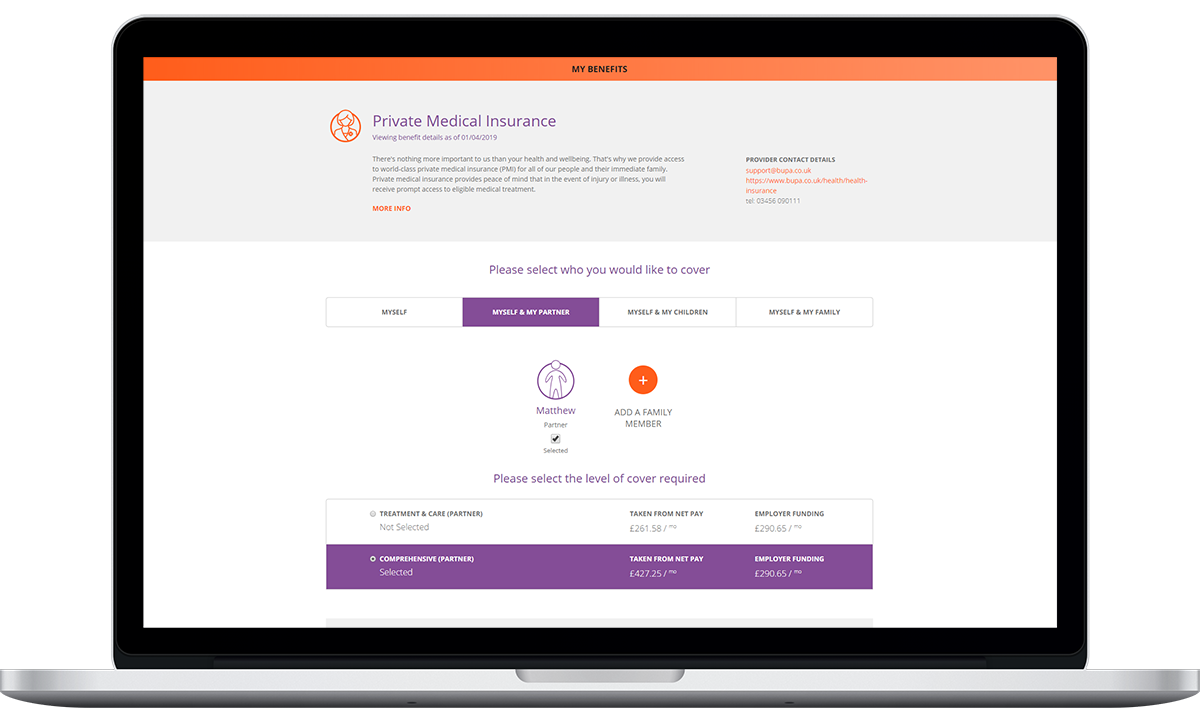 Incredible engagement for incredible benefits.
Zest provides an easily accessible and intuitive employee experience that really helps to drive employee engagement.
Engaging with benefits has never been easier for your employees. With completely personalised benefit information, downloadable documentation and easily accessible external links and videos, your employees are now more empowered than ever to make considered, informed benefit selections that work for them.
You can drive employee engagement anywhere, at any time with a platform which works seamlessly across any device. Now everyone can access the same great experience.
Why Use Our Platform
Simple Benefit Selection

Employees can now follow a simple step by step process to making their benefit selections, reducing frustration and driving employee engagement.

In-depth Information

Give your employees all the information they need on their benefits, from the provider right down to the nitty gritty details. You can even link to external supplier sites and provider videos.

Effective Dated TRS

Remove the confusion and let your employees see the impact that their benefit selection (or pay rise) has on their take home pay before they finalise their selections.

Mobile Optimised

Designed with employee engagement in mind, Zest is not only great to look at but incredibly easy to use on any device, anywhere and at any time.
How It Works
One of the great frustrations with many HR systems and employee benefits platforms in particular, is how hard they are to use and therefore how interaction has been limited. Zest, designed by UX/UI experts, offers a simple step by step process in which employees can select their perfect benefits package, manage personal information, add dependants and see how their selections will impact their pay moving forward. Using easily configurable elements, you can remove any confusion around selecting employee benefits. If any key information is missing, automated alerts and reminders help to keep your employees on track.
With an effective dated TRS, employees can now easily compare how their benefits selections will impact their take home pay compared to their existing, or previous pay. Once their selections have been completed, easy to understand summary pages allow the employee to review and confirm their selections, so nothing gets missed.
Other Features
As well as being designed with employee engagement at its forefront, Zest has a whole host of other benefits. Check out the pages below to find out how else your organisation can improve your employee benefits set-up:
Interested In Learning More?
Visit The Zest Blog
Embracing benefits technology to build a positive culture where employees feel rewarded and engaged.
By Zest
Read more
HR and reward managers are responsible for laying the cornerstones on which the corporate culture is built. The creation and enforcement of standardised, people-focused policies and procedures provide clear frameworks that help safeguard employees and employer alike, while employment contracts make clear how individuals will be compensated for their work.
Get in touch
Book a Demo