Targeted Benefit Communications
We think benefits are exciting, but know that the message can easily get lost in translation. It's time to use effective content and communications to drive employee engagement with your benefit scheme.
Zest's personalised benefit communications will help you increase the awareness and value to employees of your benefit offering and help them to make the right benefits selection for their circumstances.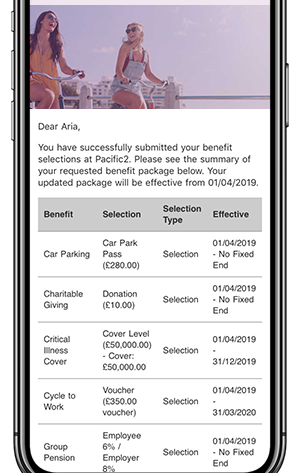 Hitting the bulls eye with benefits
It's never been easier to engage your people with their benefits. Personalised emails allow you to reach your employees with information that really resonates with them. Your employees in London may not want to know about the Liverpool office's summer party after all…
You can remove any confusion around your benefit offering too. Often different segments of your workforce need different information based on grade, location and more, so it can often be a headache to effectively communicate the right information to the right people. Zest's personalisation fields and effective dated data, which allows you to forward date events, takes all the pain away. So you can provide the right information to the right people at the right time.
Why Use Our Platform
Personalised Emails

Give your employees the information that they need. With Zest's simple editor you can communicate with employees when it's relevant to them.

Scheduled & Automated Communications

Don't be chained to your desk, schedule benefit communications and content updates when it suits you and let automated communications handle the nitty gritty.

Personalised Fields

Let Zest do all the hard work and handle personalisation of communication for you with personalised fields in our communications editor.

Personalised Benefit Content

Remove the confusion and let your employees view the information relevant to them on their benefits, emails and content pages.
How It Works
Now you can take a hands free approach to your benefits communications. By utilising Zest's communications scheduling processes you can sit back, safe in the knowledge that the right information and messaging is hitting your employees at exactly the right time.
Zest's simple communications editor allows you to personalise emails to reflect both your employees' and your organisation's requirements. With personalisation fields, you can reduce the workload and let Zest do all the heavy lifting.
From window open reminders to benefit selection confirmation emails, Zest's simple communications editor can handle it all.
Other Features
As well as being designed with a keen focus on Benefit Communications, Zest has a whole host of other benefits. Check out the pages below to find out how else your organisation can improve your employee benefits set-up:
Interested In Learning More?
Visit The Zest Blog
Almost three quarters of employers set out to improve employee engagement through their benefit strategy, according to research we sponsored earlier this year. The same percentage said that they require better or more targeted communications to achieve their future objectives. As a marketing professional new to the benefits industry, it was interesting to see this recurring theme crop up time and time again.
Get in touch
Book a Demo